COME ROLL UP YOUR SLEEVES, THE FOREST NEEDS YOU!
MEET at 10 AM at Bruno Farnocchia Park
We can make our forest home much more healthy! Help us welcome more native plants and animals back to Rio Nido by getting together to remove invasive species from our public spaces this summer and fall. We'll also begin planting more native species this winter and spring to help encourage more native growth and natural diversity and restore our forest home.
ON SUNDAY, PLEASE BRING:
Gloves: durable palm-style and/or durable garden-style
Clippers
A small axe if you have one (for removing advanced ivy from trees)
Water for yourself
Wear your masks
WHY? English Ivy and other invasive plants have taken over many of the public spaces in Rio Nido, creating an "Ivy Desert." If you wonder where some of the birds, butterflies and animals have gone, they are attracted to areas with more native growth, which is why you see so much more diversity in Armstrong Woods. This displacement directly impacts birds, butterflies, and animals that require the native plants for food and shelter.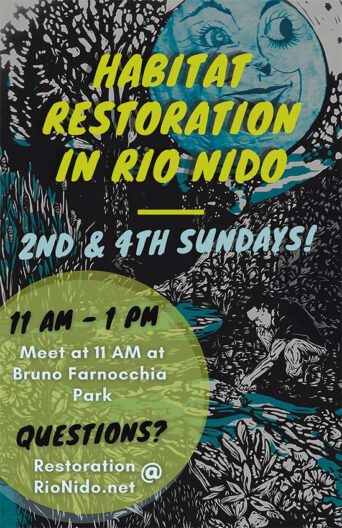 THIS IVY ISN'T JUST BAD FOR NATIVE FLORA AND FAUNA – IT'S BAD FOR YOU AND YOUR PROPERTY:
–It weakens trees: making them more likely to fall during storms, or lose limbs during heavy rains.– It decreases soil and water quality, is poisonous to humans, and (contrary to popular belief) makes for very poor erosion control.– It acts as a "fire ladder" speeding the spread of fire to the crowns of trees and homes.– It provides a home for rats (the primary animal to benefit from it)We will be careful to ensure we are appropriately distanced during our work outdoors, so that we can hand-remove the invasive species and plant anew — to make it safer and healthier for plants, animals, and Rio Nidans!
QUESTIONS? Contact: Restoration@RioNido.netWe hope to see you there!
BIG THANKS to Brad and Raena at the Rio Nido Roadhouse for hauling away our debris.
33